You may want to read the previous chapter on
marketing your house
in Vancouver here.
Offers, Counter-Offers, Conditions, and Other Problems




Accepting Offers

Closing

Completion Day – What to Expect



Realtors® assists sellers in the bargaining process, provide advice and counselling as offers are received, and work through complex negotiations with buyers.  Depending on your sale strategy, you might decide to 'hold back' all offers until a specific night; this can create a sense of urgency if the buyers have been kicking tires for a while.  On the other hand, there is a risk that no offers will come in on the stated date, leaving the home to face yet another selling strategy later.
Offers, Counter-Offers, Conditions, and Other Issues
Big money is involved, and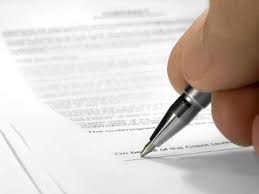 big emotional investments are at stake for both the seller and the buyer.  That's a lot of pressure to be under when trying to decide whether to take an offer (a bird in the hand?), request changes to an offer, or just hold out for something better. No less important than the emotional factors, a home sale by itself can be complex. 
There is a lot of legal jargon in a standard Contract of Purchase and Sale.  That's why it's important to understand (at least in layman's terms) what it all means, and to know something about the market conditions you're dealing with.  Your Realtor® should be able to explain all this to you and let you know very honestly what alternatives are realistically available.
Here are some questions to keep in mind when trying to decide whether to accept an offer:
Is the offer at or near the asking price?  Is the offer above the asking price?
Has the buyer buried any seller costs within wordy clauses and contract schedules?  Have these been reflected in the offered price?
What will it cost you not to accept this offer?  Consider this in terms of mortgage payments, taxes and insurance you have to keep paying if your home sits unsold on the market.
Do you have enough time to wait for other offers to come in, or do you have urgent plans of your own?
If several offers have been received, should you choose the high but conditional offer from the purchaser who may not be able to arrange home financing, or a somewhat lesser offer from a buyer with pre-approved financing?
Let an experienced Realtor® help you decide. Please remember that once you have signed a counter-offer, you cannot go back and accept the original offer or any other offer; you are committed to the one that is under consideration.   You cannot accept another offer - unless the other offer stipulates that it will only go through should the first Buyer decide not to go ahead with the purchase. 
This arrangement is binding because fulfilling the agreed condition might require great effort (or investment) on the part of the buyer.  You might still potentially review other offers, but the pending, condition-dependent offer takes precedence unless the buyer backs out (or fails to fulfill the condition in the specified timespan). Carefully consider counter-offers every time.  Maintain a rational approach and don't get swayed by emotions.  Consulting your Realtor® will usually help you stay objective and reasonable.