If you ever wondered what is going on in the heads of buyers when they come to your neighbourhood, consider this:
The buyer will start looking for the least expensive house in the best neighbourhood within his or her price range.
The buyer will have a set of minimal standards that he or she wants to see in the house.  The neighbourhood is still more important than the actual house though.
The buyer will be happy if the house is comparable or slightly better than the neighbouring properties.  Such 'market positioning' will likely earn you a premium.
The buyer will not pay you a premium if your house is clearly inferior to the neighbouring properties.
The last two points are very important to keep in mind.  As humans, we are very prone to comparing everything to the closest possible match.  Therefore, it is important that you make all the necessary repairs and upgrades to keep up with the Joneses, but any lengths you go to beyond that might only contribute slightly to the prospective buyer's appreciation of your house. 
We know of a seller who laid an imported tile floor in the foyer that cost many thousands of dollars, hoping to really 'WOW' buyers with a great first impression.  He was disappointed to find that most buyers seemed merely pleased by the new and shiny flooring, but did not appreciate the one-of-a-kind aspects of it at all.  Worst of all, the buyers were not willing to pay a hefty premium for a house with an imported tile floor!
The mere fact that you renovated more recently than your neighbours can give you that shade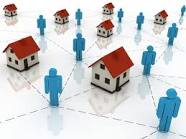 of advantage that warrants a premium – even if all you did was paint and put in a few new windows.  The buyer is really concerned with the neighbourhood and just wants to own a house that is regarded as being up to par in the community.  They will often add their own upgrades and renovate to their own tastes once they have ownership.
If you already have the only swimming pool on the street, or some other unique feature, you don't have to push any further.  Additional features are great, but investing in them probably won't bring the desired return on investment since your house already stands out as it is.
Not keeping up with the neighbours, on the other hand, (i.e. letting your home fall into dated-ness or decline) has its own risks.  It will usually shed negative light on your property and could permanently affect its marketability.  Although there may be nothing seriously wrong with it, your home could get branded as 'a gut job' or a 'teardown' and sit on the market for much longer than it has to. 
When someone does bite, the buyer might feel as if they are already doing you a favour by accepting the inferior condition of your house, and they could be more reluctant to make concessions on price and terms to make up for it.
Now that you know more about improving the market value of your home, learn what not to do before you sell.